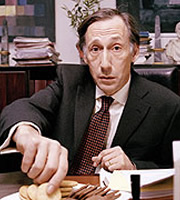 Hugh Abbot is an inept Cabinet Minister who is out-of-touch with his electorate, in the first episode of the series he is promoted to Secretary of State for Social Affairs. While he believes he has some influence, he often finds himself at the mercy of events and bearing the brunt of Malcolm Tucker's vitriol. He reads the New Statesman and has two children, Alicia and Charlie. Although he survives the cabinet reshuffle of series 2, he does not appear in the programme again and is replaced by Nicola Murray in a subsequent reshuffle at the beginning of series 3. He is portrayed by Chris Langham.
Appearances
Edit
Ad blocker interference detected!
Wikia is a free-to-use site that makes money from advertising. We have a modified experience for viewers using ad blockers

Wikia is not accessible if you've made further modifications. Remove the custom ad blocker rule(s) and the page will load as expected.