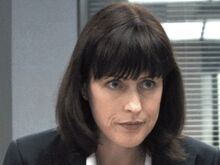 Judy Molloy is a character in the 2009 film In the Loop, in the film she works very closely with Simon Foster, an M.P that could potentially take the country to war with The United States. Malcolm Tucker dislikes her because she won't leave the room when he tells her to fuck off, between the two of them the feeling seems to be mutual. She seems to not understand what us happening around her and is argumentative at times.
she is portrayed by wikipedia:Gina McKee
Ad blocker interference detected!
Wikia is a free-to-use site that makes money from advertising. We have a modified experience for viewers using ad blockers

Wikia is not accessible if you've made further modifications. Remove the custom ad blocker rule(s) and the page will load as expected.