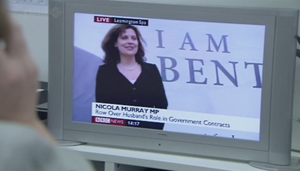 "You really are the… potty mouth, aren't you?"
"You are like a coffee machine, from bean to cup, you fuck up"
Nicola Murray M.P. is promoted to Social Affairs and Citizenship Secretary in a government reshuffle in the run up to a general election. Mrs. Murray conflicts with Tucker when he demands that she send her eldest daughter, Ella, to a comprehensive school, rather than her preferred choice of an independent school.Also on the issue of her husband and PFI contracts. This later backfires when her daughter rebels and begins to bully another student at the school. She is played by Rebecca Front.
Appearances
Edit
Ad blocker interference detected!
Wikia is a free-to-use site that makes money from advertising. We have a modified experience for viewers using ad blockers

Wikia is not accessible if you've made further modifications. Remove the custom ad blocker rule(s) and the page will load as expected.